An Honest Review of LSP.expert: Project Management for Translators
A great tool for even the most tech-unsavviest
Greater than 6 minutes, my friend!
Translators new and experienced alike have probably heard of this project management software that's made by and for freelance translators: LSP.expert.
I decided to give it a try. First, for the free trial month it offers everyone. I liked it. But I wanted to wait another month to get my routine fully integrated with it before I recommended it on my blog. I wanted to be sure it was sustainable in my career and that I wouldn't switch back to my old ways (storing everything in email and random notes around my computer).
I think this product would work for both freelance translators that are just starting out and experienced translators.
So, after two months using the platform, here is my honest review of LSP.expert.
Get 15% off using the code MAEVAEVERYWHERE15
Here's an LSP.expert review for you.
Organization even for the unorganized translator
You know the modern translator stereotype: zero inbox, beautifully simple desktop arrangement, organizational nerd. Color-coordinated agenda and a Google Drive in alphabetical order.
My personal and professional life looks a little different: all my client's information (including my usual and rush rates with them) are stored in old emails that I look through when I need it, my computer folders are a complex labyrinth of Maeva logic that sometimes is even beyond me. My Google Drive is like an old car that only the owner knows how to drive.
Most of the time it worked for me, but sometimes I wasted a lot of time. Sometimes I couldn't find important information. What was certain is that it desperately needed a makeover.
You see, despite what some people think, I'm not techy savvy and I'm not that organized. I'm not one of those organizational freaks that so many translators are. I wish I were, but I just am usually better at keeping all my information in a disorganized manner.
I've received licenses to tech that people raved about, but I ended up never using them. I honestly only use the most basic features Trados Studio because I can't be bothered to learn all the advanced features. I only started using Google Calendar very, very recently. Only because I was forced to switch because of the way my career is progressing.
But despite how often I tried new ways of organizing my projects, documents, outsourcers and clients, I always fell back to my comfort zone: disorganized organization.
I had heard about LSP.expert a long time ago. I was initially skeptical, not of the quality of platform itself, but that I would be able to take the time to learn it. I thought it would be another thing I just try for a week or two before I white flagged it and went back to my reliable "just search in your emails" structure.
In any case, my first argument is that I have been able to learn and exploit LSP.expert in what I believe is all its glory without needing to completely reinvent the way I work.
It has revolutionized my work in terms of time saved and keeping everything easily organized, without having made me relearn a new way to work. Not to mention it's totally affordable and worth the money.
This is also probably why this LSP.expert review is the FIRST time I have ever recommended a professional product. It's the only one I was able to use, with all its features, without getting frustrated or bored.
LSP.expert review: Features of the platform
LSP.expert takes all the information you need about every job and client and puts it in one place. You can do the following in LSP.expert:
Create and send invoices
Store client information: your rates for each service with them, including rush rates, minimum rates, store any documents (NDAs), add notes
Store outsourcer information
Delegate tasks to outsourcers & have them upload documents and their invoices directly in the platform
Use it as a CRM to track conversations with clients and prospects
Track time & productivity for all jobs
See profit & losses and other reports
Create & send quotes
Keep track of the status of jobs (created, in progress, finished, invoiced, etc.)
Create non-translation jobs
Store purchase orders
Keep track of taxes
It pretty much has everything you could need as a translator, whether you're alone or scaling. Let's take a look at how some of it works.
Creating a client on LSP.expert
Creating a client is where it will all start. This is where you store all your information about this client. When you saw them last, their NDAs, your services with them, what taxes apply to them, and even the different project managers there.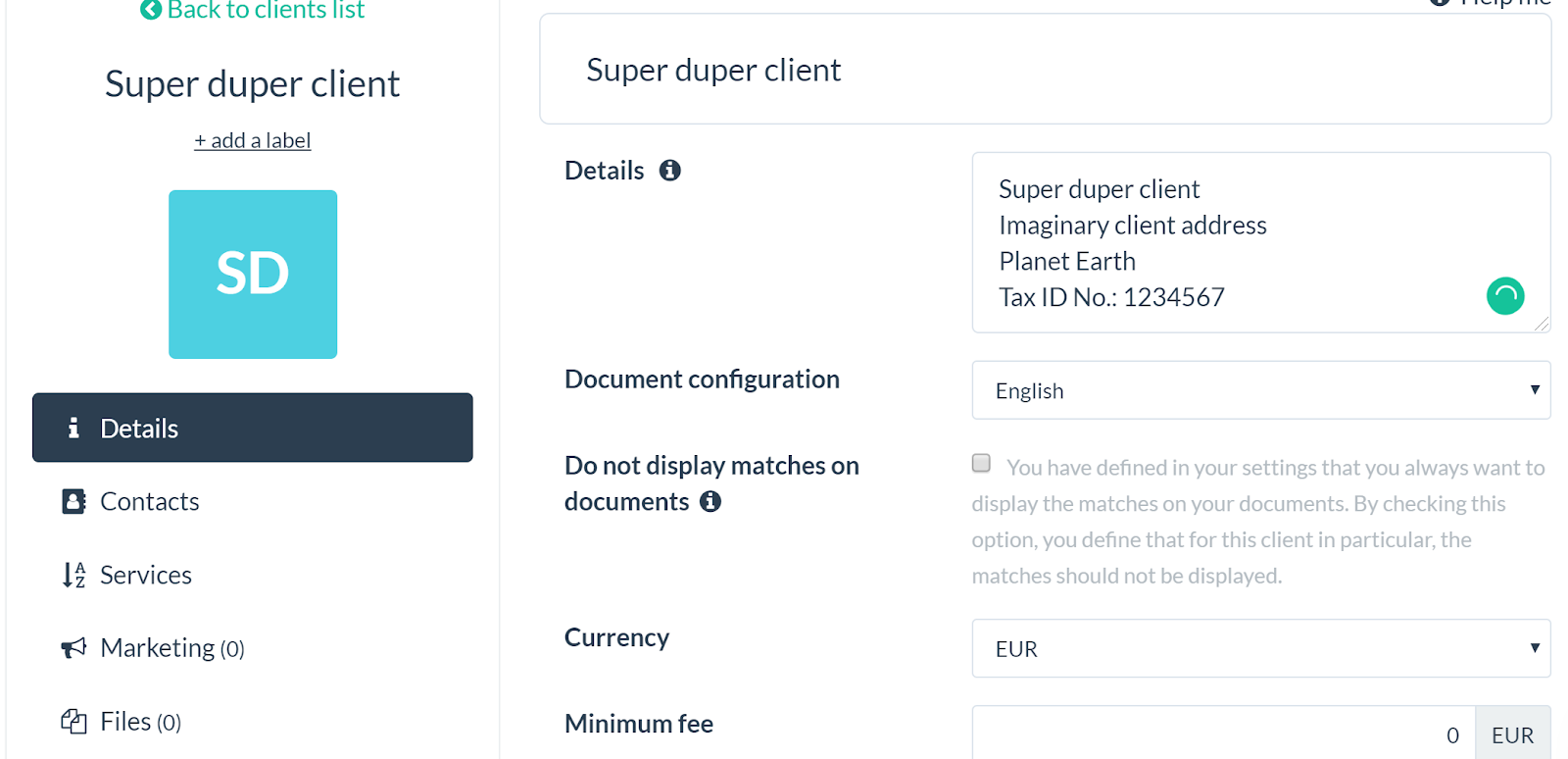 When you create a client, you should start by setting your rates for each service with them, payment terms, and add a contact.
When you add a contact for your client, you add their full name. Next to the smiley face, you put their nickname and that's what will show up when you send them an email. Check 'email invoices' to have your invoices automatically get sent to this contact.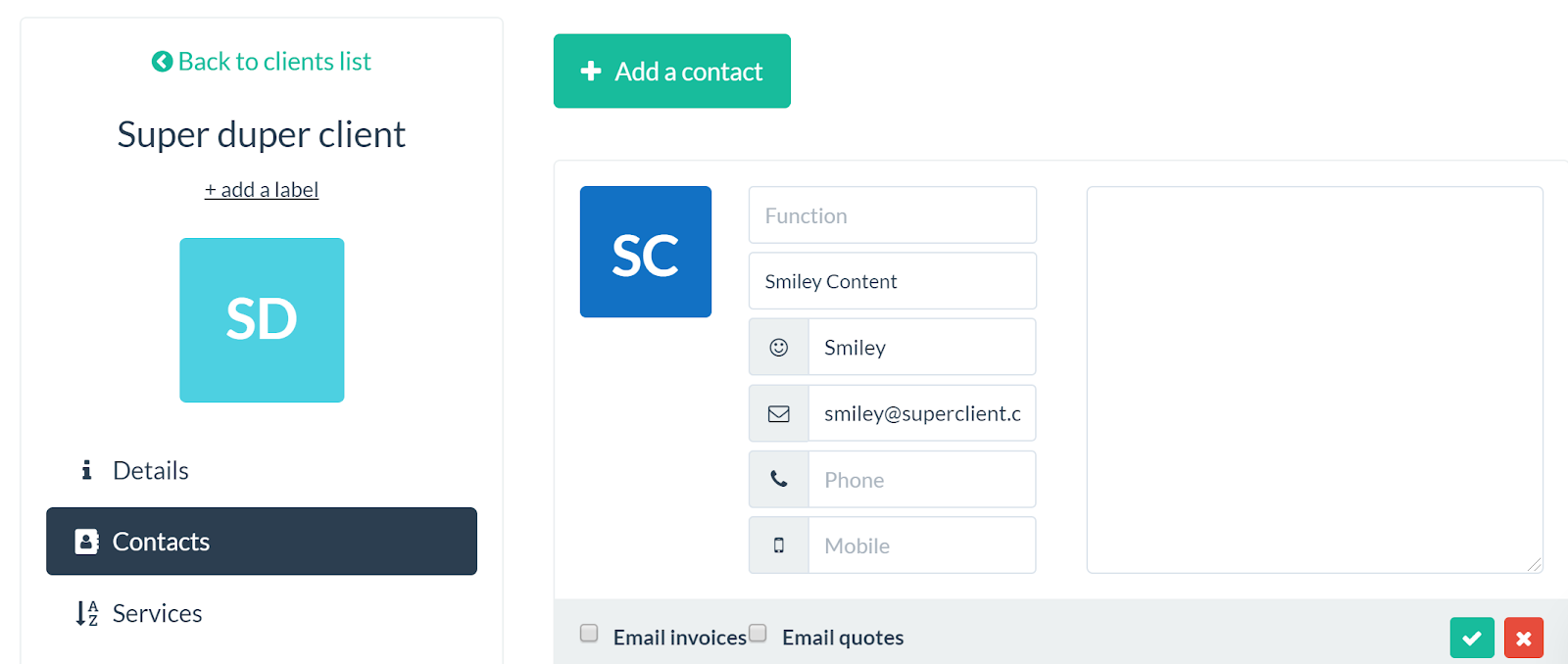 Then you can define your services for this client and your rate for them based on flat-rate, hourly or per-word. Don't worry, you can also charge on a project basis but this will be when you're preparing a job.

Then when you start a job and add the client and service, it will automatically assign the rate you've indicated here.
It's all highly intuitive.
Creating a job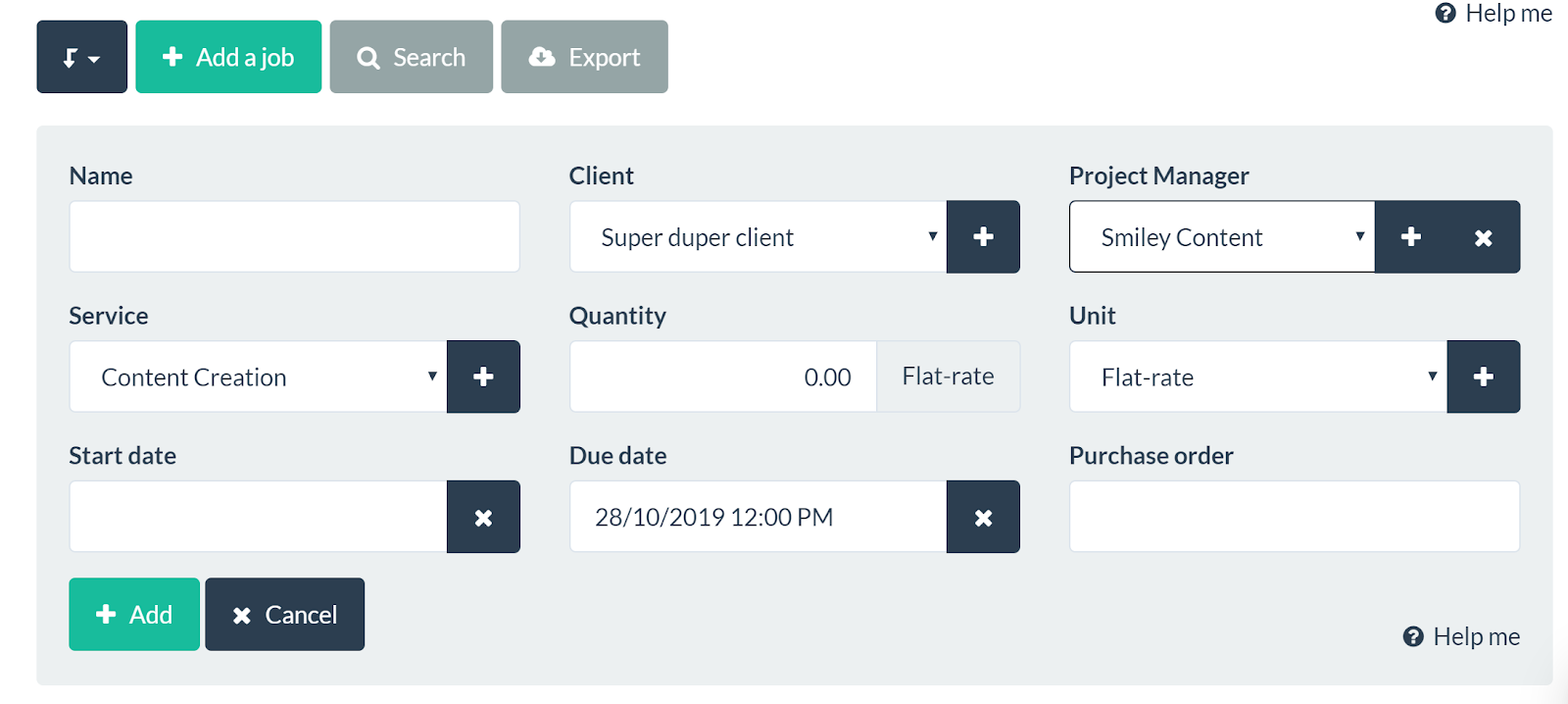 After you've created the client, it's time to start working! You can easily create your job and include all the information you need there:
As you can see, you can include the due day, select a service and unit and name the job. You can also include a purchase order number. Your invoice number will come when you create the invoice.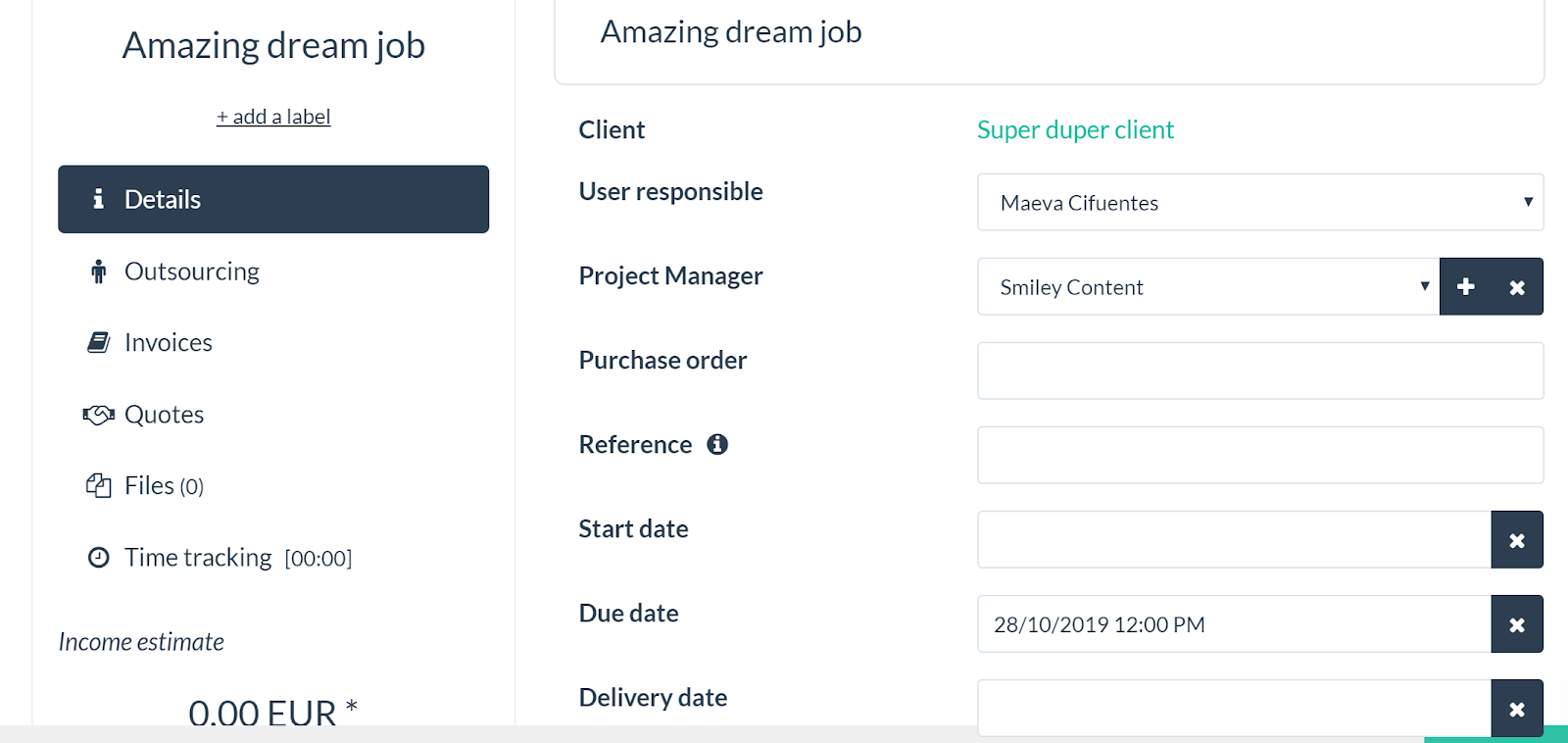 When you create your job you can add any information about it here. Any reference files, quantity, time-tracking and outsourcing (p.s. You can add as many outsourcers as you want to a job).
I time track every job now even if it's not billed by the hour. It helps me get a better idea of how I spend my time and how I can charge for project-based rates. After you finish the job, LSP.expert shows you have profitable you really were on the job. You may be pleasantly or unpleasantly surprised.
Managing outsourcers
You can manage all your outsources on LSP.expert. Creating one is almost the same as creating a client: you keep all their details, services, documents & rates in one place, including any notes (e.g. language pair, specialization).
Before I had an Excel sheet with all this information. I rarely visited it because I hate Excel passionately (see above dislike for organizational things). Now it's all in this lovely platform and I never have to look at Excel again (at least not to find vendors).
You can even rate your outsourcers on a 5-star scale and enter their availability.
For each job outsourced, you'll see the supplier portal at the bottom: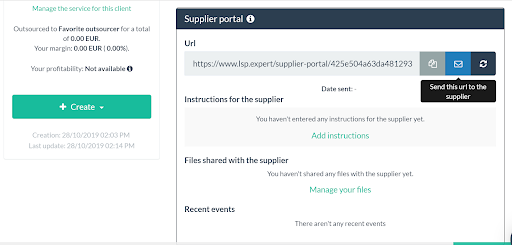 From there you can directly send the job and instructions to your outsourcer. They can change the status of the job (accepted, in progress, ready for review, etc.) and upload the files and invoice directly to the platform.
You'll also see your profit margin for each job.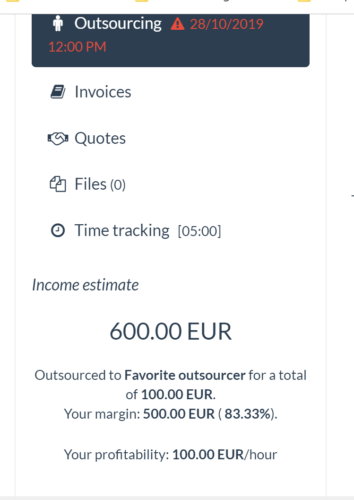 Creating invoices on LSP.expert
Once you finish the job, you can select it from the job dashboard and create your invoice. Or you can create it directly from the job information. In your invoice template you'll have saved all your invoicing information and the job information so you basically just need to click create and then email the invoice (directly from LSP.expert).
The only downside (on the date of writing) is that it doesn't seem like outsourcers can accept/reject the job yet.
Reports & accounting on LSP.expert
You can upload all receipts, not just outsourcers, onto LSP.expert. That way you can easily see your financial situation in the reports. It lets you see:
Monthly sales
Turnover
Profit and loss
Tax summary
Payments
Sales by service
Sales by client
Performance
Profitability
And more.
Constantly improving
LSP.expert is a platform designed for and by translators. They're a small team and constantly looking for ways to improve the platform and answer needs.
Their customer service is excellent and they're very open to constructive criticism and feedback from clients. Plus, it's not even expensive for all the time it's given back to me.
All in all, I highly recommend this productivity and project management platform. It's not only helped me become more productive by keeping all information in one place, but I'm better able to understand my own work and scale.
If there's anything I missed reviewing, please let me know and I'll add it to this review.
Disclaimer: I will only ever recommend products that I completely believe in and trust. That's why I tried it for two months before writing this article. However, this post contains affiliate links and I may receive commissions for any purchase made through this link at no extra cost to you.