Content Marketing for Freelance Translators
Webinar (Full Text, Video, and Presentation)
Greater than 6 minutes, my friend!
I have run a webinar about content marketing for freelance translators recently and I'd like to share the content of this webinar with those how did not have a chance to take part in a live session.  Today you will learn how to create a comprehensive content marketing strategy and implement it to your existing or future website.
In this webinar, we will consider three main stages of CM: Creation, Publishing, and Distribution of content.
This webinar is sponsored by Smartcat. So if you are looking for a reliable solution for your daily translation tasks — check out Smartcat. It's free!
Content Marketing
If you have some experience in online marketing, you probably heard about such a phenomenon as Content Marketing. If we refer to Wikipedia, CM is defined as follows:
Content marketing is a form of marketing focused on creating, publishing and distributingcontent for a targeted audience online. 
It is often used by businesses in order to:
Attract attention and generate leads
Expand their customer base
Generate or Increase online sales
Increase brand awareness or credibility
Engage an online community of users
Video Version of the Webinar

Webinar Presentation

There are three main questions to answer in order to run successful CM campaigns:
What kind of content should you create?
Where to publish your content?
How to distribute (promote) your content?
To answer the first question, and to understand how to create relevant content that can bring traffic to your website, you need to know your potential clients, their problems, and desires, why they need translation and how particular language services can resolve their issues or tasks. Therefore, content marketing shall start with the identification of your customer avatar.
Customer Avatar
So, Customer Avatar is a generalized character of your customers used to identify their core characteristics (location, the sphere of activities, age, interests, etc.). Properly elaborated Customer Avatar will form a steady basis for the further content marketing implementation.
To create a customer avatar, answer the following questions
What is the physical location of your customers: country, state, city?
What are they doing: industry, sub-industry, product, service?
Who are your customers: position in the company, age, gender, interests?
Which category do your customers belong to:

Your existing customers (yes, you need to create content for them too)
Choosing between several providers or looking for a new provider
Need translation are searching for providers (don't have a provider or never order translation before)
Do not know that they need translation (but actually may need it)

How can you reach them? (you need to identify channels as per the above categories):

Email (if it is your client), your Facebook business page.
Organic Searches leading to your website, forums, blogs that your potential customers read
Other posting platforms like Medium or LinkedIn Publisher.
Facebook and LinkedIn groups, Twitter, Instagram, etc.
If you don't have direct clients yet, you can imagine a hypothetic client and use them to form the initial Customer Avatar that should be refined further when you have actual clients. If you already have clients, collect data about them and create CA based on the facts, rather than assumptions.
If you have several specialization or languages, you need to create CA for each of them.
Content Creation
Creating content for your blog is time-consuming, but it is the most rewarding strategy in the long run, provided that you create the right content for the right audience.
When you have CA created, it is high time to develop a content plan based on the assumptions (or actual data) about your Customers.
Customer categories used above correlate with the stages of a sales funnel. This is a converging funnel used to attract users to your website, filter out irrelevant leads and help potential customers make a decision to purchase your translation services. We have to build up our content based on the stage of sales funnel taking into account specific features of your CAs.
Content Based on Sales Funnel Stage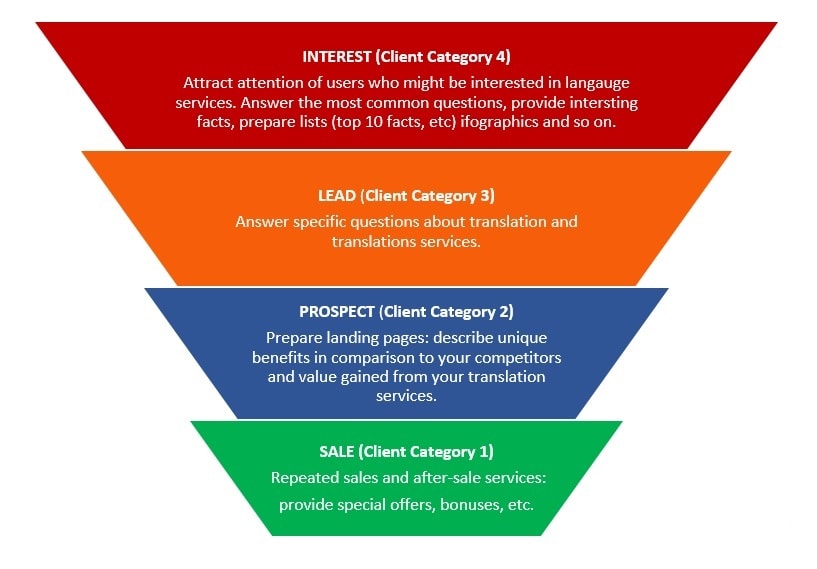 Examples:
Content Publishing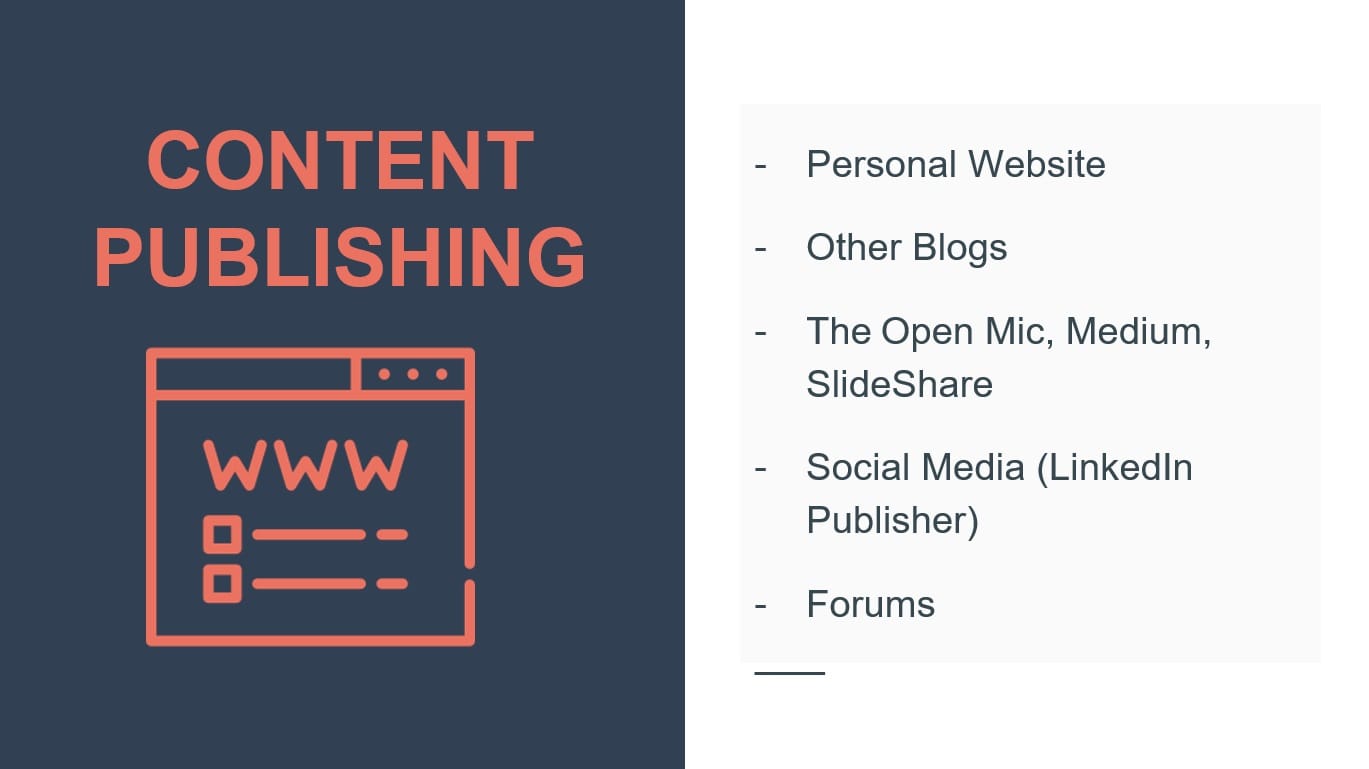 When you have a clear vision of your content plan for each category of clients and stages of a sales funnel, it is high time to think about publishing platforms. Of course, the first thing that comes to mind is your personal website (remember, we started with the assumption that you have a website). However, content published on your website is only a part of all content to be published on the web.
For the publishing stage, you should create posts for different platforms:
Personal Website
Other blogs (guest blogging)
The Open Mic, Medium, SlideShare, etc. (republish and repurpose content on various platforms).
Social Media (Facebook, Twitter, LI)
Forums
For the first item, you need to have the entire sales funnel set up leading your users from INTEREST to SALE stage. Prepare at least five posts for each stage. This way you will have 20 posts in total on your personal website.
Guest blogging will help you to get backlinks and attract traffic to relevant pages of your website. Prepare outreach email campaign: contact with bloggers in relevant fields and prepare interesting and relevant content for guest posts. Guest posting is a topic that deserves a separate presentation. It will take too much time if we focused on it now.
Republish content from your blog to other platforms: Medium, The Open Mic, etc. (wait until a post on your website is indexed by search engines, republishing platform shall add REL CANONICAL attribute so that search engines know that the original content was published on your website — Medium and The Open Mic have relevant functionality to set canonical URLs). Repurpose content: create infographics or presentation, record a podcast.
Rewrite (prepare a short-version) content from your blog for LinkedIn Publishing. This is a very powerful content distribution tool. Posts on LI Publishing can reach LinkedIn Pulse with millions of users.
Start relevant new topics on specialized forums or search for existing topics and post meaningful comments with a link to an article published on your website. As you can see here, I've published a question about industry problems on Proz.com and it resulted in a vivid discussion. I had hundreds of users who clicked a link to my website in this post.
Content Distribution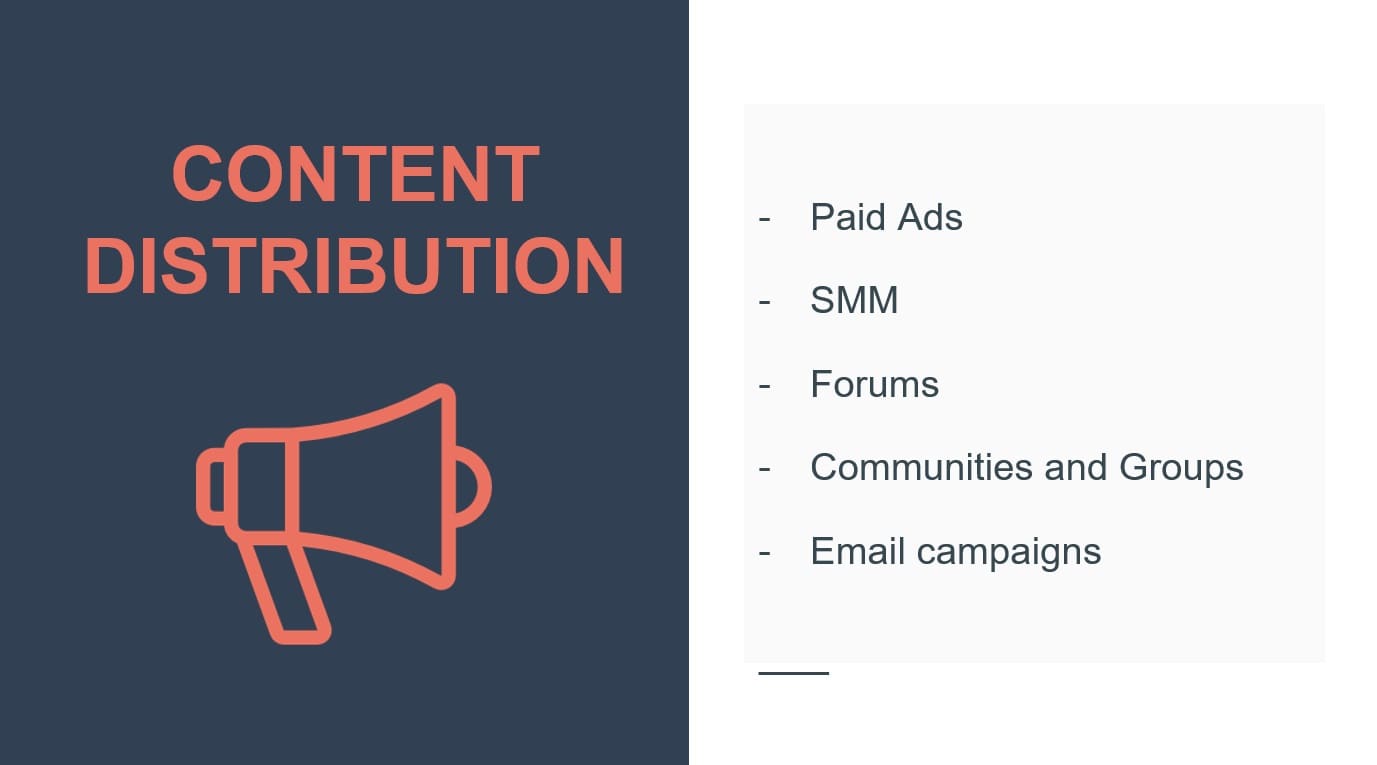 Finally, we arrived at the most important stage of your content marketing strategy. Let's imagine that you have already implemented all the above actions: prepared and published tons of useful content on your personal website, but no one reads it!
In fact, you cannot simply sit still and wait when users start reading your blog and visiting your website. You have to actively promote and distribute your content across all possible platforms and channels.
Here are the main channels you can use to distribute your content.
Paid Ads
Social media platforms
Forums
Communities and Groups
Email campaigns
However, remember the general rule for content distribution and promotion:
You should apply 20% by 80% rule for content marketing. Let's say you spent 2 hours to write a 1000 words article. Then you should spend 8 hours to promote it across various platforms.
The content of each funnel stage requires different approaches to promotion and distribution.
Content aimed to attract INTEREST can be posted in industry-specific groups on Facebook and LinkedIn. Here is a list of Facebook groups:
By the end of each week analyze your posts performance and select the most engaging post by the number of likes and shares. Run Facebook ads campaign to promote this posts to a large audience.
Content prepared for LEADS shall be written with SEO in mind. Use long-tail keywords to attract users right from search pages.
To increase the visibility of your post on the web this post shall have good backlink profile. That can be achieved when multiple trusted websites link to this post. There are many ways to receive quality backlinks. One of them is to publish guest posts with backlinks to certain posts on your website. Another good method is to find similar posts, leave meaningful comments and ask the post author to include a link to the relevant post on your website that supplements the information on this website.
You can also search for broken links on resource pages and ask the website author to replace the broken link with a link to your website (if you have relevant post).
Content for PROSPECTS (landing pages, other pages describing your services and processes) can be promoted using PPC advertising, posted in industry-specific groups and on Facebook business pages.
Finally, pages and posts prepare for the existing clients (SALE stage) shall be promoted through email campaigns. When you have several clients on the list, you can easily send direct emails with special offers to increase loyalty and get repeated sales. You can use Mail Chimp for free (up to 2000 subs).
I hope now you have a clear view of what Content Marketing is and how to apply it to your translation business.
Feel free to ask any relevant questions below and do not forget to share this post on Facebook, Twitter, and LinkedIn. Also, subscribe to an SFT newsletter!