This user has not added any information to their profile yet.
App Localization, Editing and Proofreading, Localization Testing, Software Localization, Translation, Video Game Localization
From 6 to 10 years of experience
Find Me On TM-Town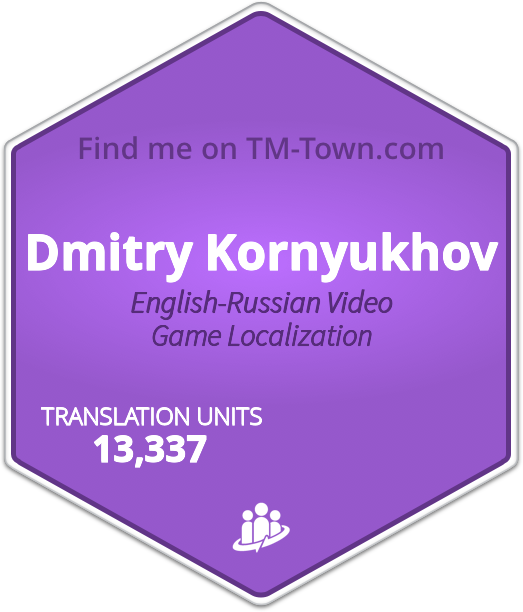 Is this someone you've been looking for?
My Rates
They say every project is different and I'm afraid there is no such thing as a "one-fits-all" translation rate.
There are literally dozens of factors that affect translation rates: the complexity of your source text, file format (hand-written and non-editable electronic documents tend to be much more expensive), how fast you want it back, your budget expectations, etc.
Please, contact me and I'll be happy to give you an exact quote.
My Fields Of Expertise And Areas Of Interest
Business and/or commerce, Construction, E-commerce, IT: networks and internet, Marketing, PR and/or market research, Medicine (general), Video games
Architecture, Automotive, Electrical engineering, Energy and/or power generation, Environment and/or ecology, Health Care, Hotels, IT: hardware, Management and business processes, Pharmaceuticals
Belgorod State University
Translation & Linguistics
My Biography and Experience
I'm an English-Russian translator and video game localization specialist from Toronto. I help video game developers, game publishers and localization companies translate their video games into Russian. Here's what my clients say about me:
I'd like to praise @DKornyukhov, he has done a very good job with English-Russian translations for us. Check his web https://t.co/ylhH4MkOtr

— Vojtěch Schubert (@falagor) August 5, 2016
High-five to @DKornyukhov for doing a great job on Russian video game localization for us! https://t.co/pCRCOF4lap

— LocalizeDirect (@LocDirect) August 12, 2016
Shout-out to @DKornyukhov! Totally recommend him & enjoy working together on several game localization projects https://t.co/6BJo4XWfWZ

— WordNerd (@wordnerdco) August 11, 2016
When I'm not busy helping my clients increase their sales through the power of translation, I try to give back to my beloved profession.
That's why I'm always creating initiatives and side projects that are designed to promote knowledge-sharing within our industry, help those who're just starting out in this profession, and improve the overall image and visibility of all translators.
One of such projects is the first blogging community and a professional social network for translators and for people who're looking for professional translators.
This community is called The Open Mic (you're actually browsing through it right now) and now has more than 3,800 registered members with over 6,000 monthly readers. It has also won a 2016 & 2017 Proz.com Community Choice award as the Best Website for Translators.
I also co-host a one of the kind weekly talk show for translators called #TranslatorsOnAir where my friend and colleague Elena Tereshchenkova and I interview interesting people from the world of translation and localization while our viewers can participate in the discussion in real time!